Green Market Rosenheim/ Market at the Ludwigsplatz
Ludwigsplatz 1
83022 Rosenheim
small market:
Mo - Wed 08:00 - 13:00 Uhr
large market:
Thur - Sa 08:00 - 13:00 Uhr

"Bauernmarkt":
Do 08:00 - 13:00 Uhr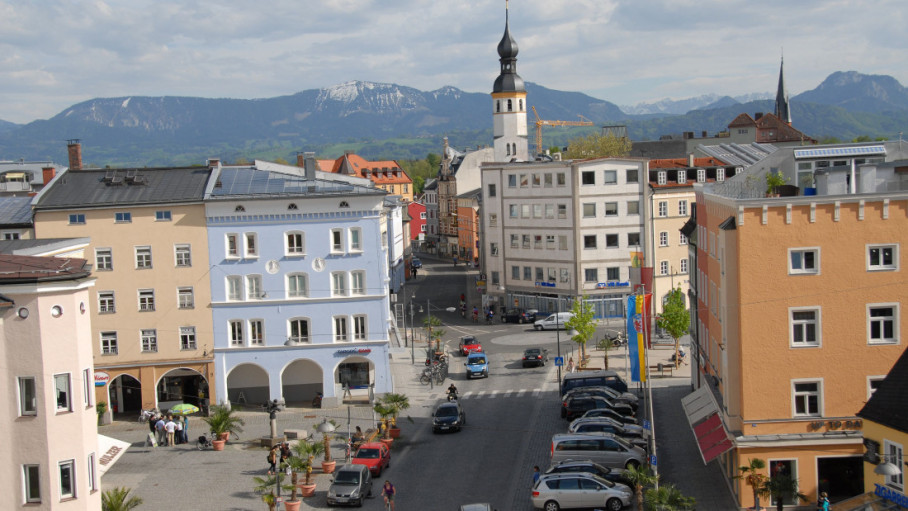 Rosenheim Green Market / Ludwigsplatz Market
Small market:
Mon. – Wed. 8:00 am – 1:00 pm
Large market:
Thu. – Sat. 8:00 am – 1:00 pm
Farmers` market:
Thu. 8:00 am – 1:00 pm
Summer has arrived at the Grüner Markt (Green Market) in Rosenheim, bringing with it a seasonal range of products. In addition to fresh fruit, vegetables, sausage, poultry and baked goods, visitors to the market can also discover a colourful variety of flowers and plants. There are also numerous honey and cheese specialities on offer.
A current highlight: In July, a stroll around the market will also be rounded off by musical performances. These will kick off on 7 July 2022 with the artist Beppo and his Styrian "Ziach" accordion. On 23 July 2022, the "Ziachmoni-Musi" accordion band will take to the stage before Beppo returns to perform at the Green Market on 28 July 2022.
The market stall sellers can be found in Ludwigsplatz square from Monday to Saturday from 7:30 am to 1:00 pm and are happy to welcome visitors. Parking is available in the P7 (Altstadt Ost) and P20 (In der Schmucken) multi-storey car parks, both of which are located just a few minutes away from the Ludwigsplatz square.